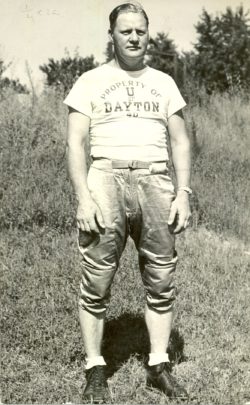 Head Coach Harry Baujan took the University of Dayton Flyer football team from a small program to a midwestern powerhouse. Piloting the Flyers from 1923 to 1946, Baujan's teams logged a better than 65% winning record with 124 wins and 64 losses, with 18 winning seasons out of 21. Affectionately nick named "The Blond Beast", Harry was known as a strict disciplinarian. He served as UD's athletic director from 1947 to 1971.
Born May 24, 1894 in Bardstown, Illinois, Baujan played as a regular end under Jess Harper and assistant coach Knute Rockne at Notre Dame in 1914 to 1916. Following his miltary service for World War I, the five foot, eight inch, 167 pound Baujan played professional football from 1919 to 1921 with Massillon and Cleveland.
In 1922, Baujan received a request to interview in St. Louis for the University of Dayton coaching spot. To get there, Baujan had to row a boat from flooded Beardstown, Illinois to reach the nearest rail station. Baujan became the head coach in 1923 and also served as basketball, baseball and track mentor throughout his career.
Some of the many outstanding players during the Baujan years include: ends Skeeter Eisele and Bob Payne; tackles Ralph Niehaus, Bill Belanich and Tony Furst; guard Paul Wagner;center Duncan Obee; backs Jack Padley, Lou Mahrt, Ducky Swan, Vince McDonough, Sneeze Aichu,and Coley McDonough. Memorable games include: 1939 St Mary's (CA) 6-6, 1937 Western Reserve 18-6, 1925 Haskell Indians 6-2, 1937 Ohio U 6-0, 1942 Tennessee 6-34, and 1938 Ohio U 13-0 to tie for the Buckeye Conference Title.
Baujan was appointed in 1964 as Assistant to the Chairman of the UD Athletic Board. UD stadium was renamed "Baujan Stadium" in 1961, honoring his many years of service. He was named in 1962 to Helms Athletic Foundation Athletic Hall of Fame, in 1970 to the National Association of Collegiate Athletic Directors Hall of Fame and in 1990, posthumously to the prestigous National Football Foundation and College Hall of Fame. He passed away December 30, 1976 in Dayton at the age of 82.
You can visit Harry's gravesite in section 7 Lot 84, space 11.