Don Meineke Laid to Rest in Calvary Cemetery on Friday, September 13
Meineke will be Missed by Fellow Teammates
By Doug Harris | Wednesday, September 4, 2013, 09:12 PM
The University of Dayton lost one of its basketball legends Tuesday when Don "Monk" Meineke passed away at 83. And "legend" is an appropriate term.
The Atlantic 10 picked an inaugural class of basketball legends last year for each of its member schools, and Meineke, the former All-American center, was chosen to represent UD.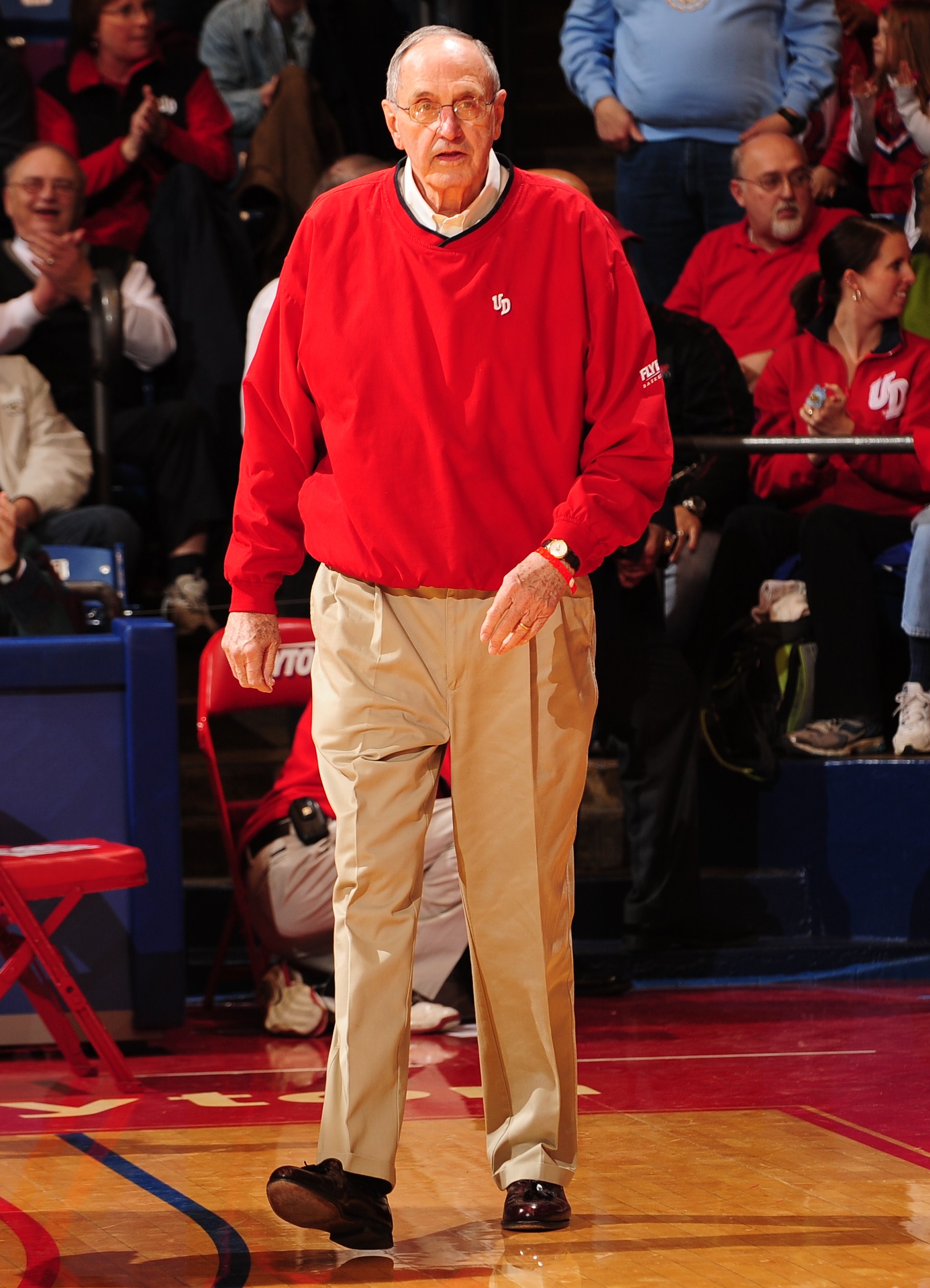 One of the truly remarkable things about the players from the era of the 1950s is not only how wildly successful they were on the court, but also how those relationships have endured over time. They grew closer with each passing decade. We're talking 60-year friendships, and I'm not sure any group of players anywhere could boast about have that kind of lasting esprit de corps.
Chris Harris (my father) talked about how former Cincinnati Royals star Jack Twyman was shocked to hear that the UD guys still stayed together after all those years.
"Monk, Jack Twyman and I roomed together with the Rochester Royals, and I remember years and years later, Jack Twyman invited Monk and I to go to lunch with him," Harris said. "Jack was up working in Dayton. We went to lunch and were talking and laughing about different guys on the team. Jack said, 'Let me ask you something, do you guys really see old teammates? Do you socialize with them?'
"I was like, 'Well, yeah. We're like family.' He said, 'God, I run into a teammate once in a blue moon and say hi. We never socialize.'
I started thinking about how close the bonding of our team was and still is. They'd visit me in Florida, I'd visit them. We'd talk on the phone. We were always there for each other."
Don Donoher and Harris took the loss of Meineke hard. There aren't many left from that era. In fact, all five starters from UD's first two NIT runner-up teams in 1951 and '52 have passed way.
They remembered Meineke as a good-hearted guy who always seemed to have a smile along with something funny to say any time you saw him.
When my dad was elected to the UD Hall of Fame last year after a 57-year wait, Meineke was one of the first to call him, and the first words out of his mouth were, "That's the greatest miracle since Fatima."
Donoher:
"He was really just a journeyman high school player. But the (UD) program just grew with him. That team averaged more wins than any class ever down there. It wouldn't be close.
"He was a good passer. But he used to get the needle (about shooting). He could score. It's unbelievable the way he worked to develop himself. He wasn't bulky. He was wiry, tough and strong.
"To be able to go into the NBA and have to learn a new position (other than center) … He never shot outside while playing in Dayton. Everything was in the post. He was a forward. He goes and becomes NBA rookie of the year and carves out a nice career at a new position.
"People will soon be lining up to enter (UD Arena). They ought to look up to the heavens and say, 'Thanks, Monk.' He set the table for all of us who came behind."
Freshmen weren't eligible when Monk enrolled with Pete Boyle, Junior Norris and Chuck Grigsby. Razor Campbell later transferred from Ohio State to become the fifth starter.
The varsity-freshmen games were bloodbaths in 1948-49.