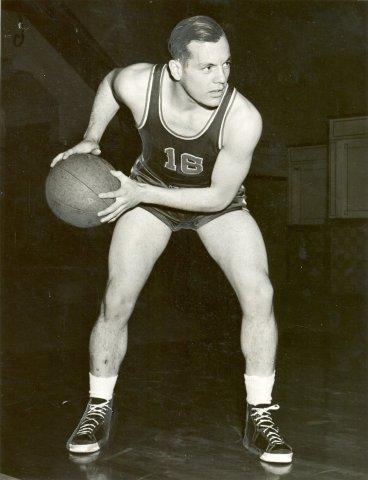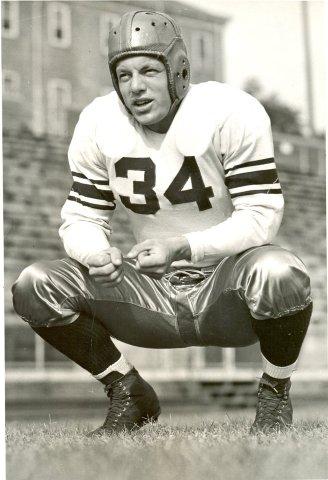 A Dayton native, Gene Westendorf earned eight varsity letters in basketball, baseball and football during his time at UD from 1938 to 1941. He received three letters a piece from basketball and baseball and didn't receive any letters in football until his junior and senior years. He was a very small athlete so was often overlooked on the football field. The coaches finally allowed him to play and the team played smoother than ever. The first game he played in was a loss but he did get the team their only two touchdowns of the day. From that point on he remained the starting quarterback. His senior year he earned UD's Most Valuable Player award and also won All-Ohio honorable mention.
In the late 30's and early 40's a team scoring around 40 points in basketball was considered a lot. Westendorf averaged more than 10 points a game. As the teams' high scorer, he led the Flyers to three successful seasons and was all-Ohio first team guard.
Westendorf maintained a 3.0 GPA at UD, studying in the School of Engineering. After he graduated he became a sales engineer for General Electric. Him and his wife Betty remained in Dayton with their four sons and two daughters. Westendorf passed away on May 4th, 1996 at the age of 79. In 1997 his family began holding a memorial fundraiser in his honor. This past summer was the 15th annual fundraiser. It combines what he loved most; friends and family, golf, and helping others. Proceeds go to St. Vincent De Paul.
You can visit Gene's gravesite located in section 45 Lot 145-2.