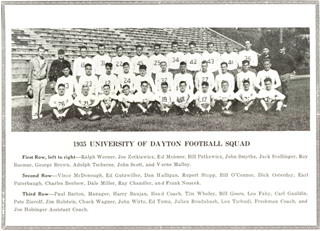 The 1935 Flyer Football Team
Joe Zotkiewicz was an athletic superstar at UD. He played football, basketball and golf from 1935-1938. He won three letters in both football and golf and earned one for basketball. On the football filed he was a fullback. His senior season he was elected the team's captain and was voted Best Athlete by the student body. He was also named to the All-Buckeye conference team and received a few Honorable Mention Awards. The student body also voted for him to receive the Gold Medal Award, which stood for excellence in scholarship and Athletics.
He received state medalist honors at the Golf State Championship three years in a row, assisting him in receiving varsity letters for playing. He was only 5'9, which made him a great guard for the basketball team. Joe passed away in 1968 at the age of 52.
You can visit Joe's gravesite located in section 18 Lot 250.
Information compiled from files at UD Archives, the UD Sports Information Office and Dayton Daily News.