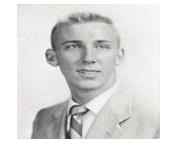 Tom Frericks is a legend at UD. He was born on March 17, 1932 in Minster, Ohio. Upon graduating from Minster High in 1949 he came to UD to play basketball. He majored in Education and received minors in History, English, and Science. After he graduated in 1953 he became Chaminade High Schools boys basketball coach. He coached there until 1963 and had an overall record of 166-54.
In 1964 he came back to UD to take on an administrative position. Later that year he replaced Harry Baujan as UD's Athletic Director. The next 28 years of his life were full of achievement. In 1987 he was on the Division I Men's Basketball Committee. This committee picks the NCAA Tournament participants and the playing sites. He was also nominated the secretary and treasurer of the NCAA. While on the committee he assisted in negotiating a $1 billion TV contract with CBS.
In 1991 he received many honors and awards such as the NIT Service to Basketball Award. Frericks also received a Lifetime Achievement Award, presented by the Ohio Professional and Amateur Sport Association. On top of that he received the Wilford S. Bailey Award, which is awarded to the top collegiate sports administrators in America.
In 1992, he stepped down from the Athletic Director position but remained the Vice President of Athletics and Facilities. Frericks had prostate cancer, which would not allow him to be in the Vice President position much longer. He passed away on January 31, 1992 at the age of 60. Frericks lived an extraordinary life and gave back so much to UD and the community. One of the athletic facilities is named after Thomas Frericks, giving UD students, alumni, staff and faculty the chance to remember him for all that he did.
You can visit Tom's gravesite located in section 29 Lot 142.
Information compiled from files at UD Archives and the UD Sports Information Office.