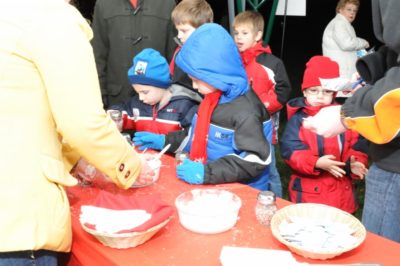 About 500 cookies were decorated and eaten
The weather was perfect, appropriately cold for an early December night. The almost full moon shone down on the beautifully illuminated chapel and angel statues as more than 700 people enjoyed the music of the season from Oakwood High School combined choirs, J.Ritter  Werner and Stephanie Lytle, and the Holy Angels choir. The carriage rides were supplemented with a well equipped 28 passenger van. Cookies were decorated, hot dogs and popcorn consumed, and about a hundred  gallons of hot chocolate and coffee were drunk.
Calvary Board members pitched in to drive shuttles, usher at the chapel, help elderly folks get around and many other large and small jobs that made the evening perfect.