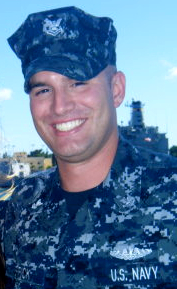 January 20, 2014…The Board of Trustees of the Calvary Cemetery Association is pleased to announce the award of the annual God and Country scholarship to University of Dayton Senior Bruce A. Herrick of Clayton, Ohio.
Herrick is a six year Navy veteran who enlisted in the National Guard upon his return to the Miami Valley to attend the University of Dayton. He will soon be certified as a Combat Engineer with the unit.
A  Leadership major, Herrick will earn a Bachelor of Science degree in Business Administration this May. He has been recruited by Welch Packaging in Terre Haute for their Management Training Program.
The official presentation of the award will be at the  Flyers basketball game versus St Joseph on Wednesday, January 29 at UD Arena. Attending the ceremony will be Herrick's mother Elaine, who lives in Englewood.
The God and Country scholarship is awarded to an undergraduate UD student who is a military veteran or current member of the armed services or to a student who is the child or grandchild of a veteran or active military members. Herrick is the fifth student to receive the honor.