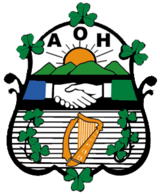 The Ancient Order of Hibernians will honor the Conway family, the founding Catholics of Dayton, on Sunday, September 15. Father Anthony Angelo will celebrate the Mass starting at 2 PM at St Henry Memorial Chapel at Calvary. A Pipe and Drum March up the hill to the Conway gravesite will follow. There will be special blessings, a dedication of a new Celtic Cross monument and a toast with A Parting Glass. Both the men's and women's groups have donated toward the monument.
About the Conway Family
Robert Conway was born in 1780 in County Mayo, Province of Connaught, Ireland. (1) His parents were Roman Catholic, educated, farmers who owned their land. (2)
He fought in the Irish Rebellion of 1798. (3)
He emigrated to Baltimore, Maryland in 1802. (4)
He met and married sixteen year old Sarah McLane there in October of 1803.(5) Conway worked as a carpenter as well as managing a small tinwares store. (5a) Their first child, Hannah, was born in 1804, followed by Michael in 1808, Adam in 1811 and Catherine in 1812.
Conway again fought against the British in the Invasion of Maryland during the War of 1812. He served as a Private in the Maryland Militia and returned home in late 1815, earning his American citizenship through his service. (6)
In 1817 Ellen was born, followed by Stephen in 1821, Edward in 1824, Bridget and Patrick in 1826 and finally Robert in 1829. (7)
The Miami-Erie Canal had been dug and The Baltimore and Ohio Railroad had been started, so in 1831, Conway moved his wife and children to the growing pioneer town of Dayton, Ohio. (8)
The Archdiocese of Cincinnati, including Dayton, was established in 1821. Dayton had no formal Catholic church when the Conway family arrived. Robert wrote to the Archbishop and requested a priest for regular Masses. The first official Mass, including the six other Catholic families now living in Dayton, was held in May of 1831 (9) in the Conway home on St Clair Street. From there, as more Catholic families settled in Dayton, the local church grew to the founding of Emmanuel Church in 1836. Emmanuel became dominated by German speaking immigrants, so the Irish group founded St Joseph's Church in 1846. The surviving Conway family members moved to houses on Madison Street around St Joseph's upon its completion.
Robert Conway died in February of 1850. (10) His wife Sarah lived until 1865. The first generation of Conways was buried in St Henry's Cemetery, Dayton's original Catholic burial ground, from 1844 to 1872. They were reinterred in Calvary when St Henry's was closed in 1880. (11)Their children joined them in this new family lot upon their deaths. There was no marker on the lot until 2013.