Professional Genealogist Offers Memorial Day Tips for Finding Family Members
Many of us will be visiting family and friends in the cemetery during the Memorial Day weekend.
Sharon Carmack, speaking at a workshop at Calvary Cemetery last Saturday, suggested this as a perfect opportunity to track down long lost relatives. "Leave a plant or a silk decoration on your relative's grave," she advises, "put your contact information on a card inside a Ziploc bag with it. Then other people who are visiting the same grave will see it and get in touch with you. This really works, sometimes the same day you put it out there!"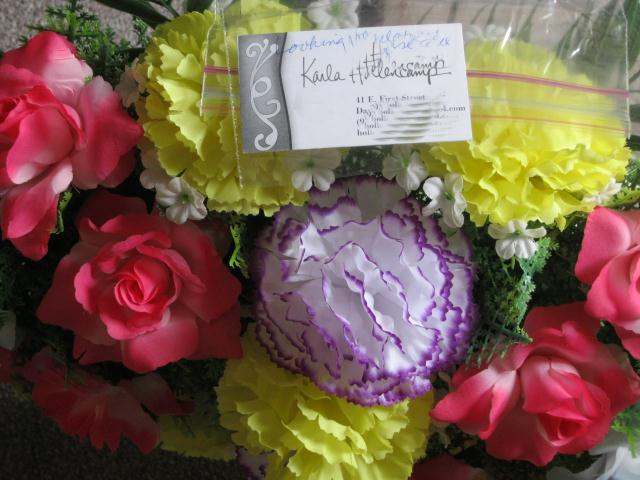 Put your contact info in a ziplock bag with a plant or flower arrangement for others to find at the gravesite
Another hint Sharon shared for making contact through the cemetery is to leave your card at the main office and ask the staff to offer your contact information to others who inquire about the same family name or specific person. "We are creating a notebook for these cards and contact sheets," says Karla Hollencamp, Calvary Cemetery Community Relations. "You could also mail us your information and we'll put it in the notebook. Then when someone comes looking for a relative in the cemetery, they can check the notebook to see who else has been looking. These family connections are like finding buried treasure. People discover cousins and others they never knew existed."
Calvary's 138th Annual Memorial Day Mass will be held Sunday, May 27 at 12:30 PM. Boy Scout Troop 516 will present a flag ceremony beginning at noon. The Treblemakers, a barbershop quartet, will sing The Battle Hymn of the Republic and the Star Spangled Banner as a prelude to the service. Father Scot Wright of Incarnation will be the celebrant. A release of 300 red, white and blue balloons will follow.