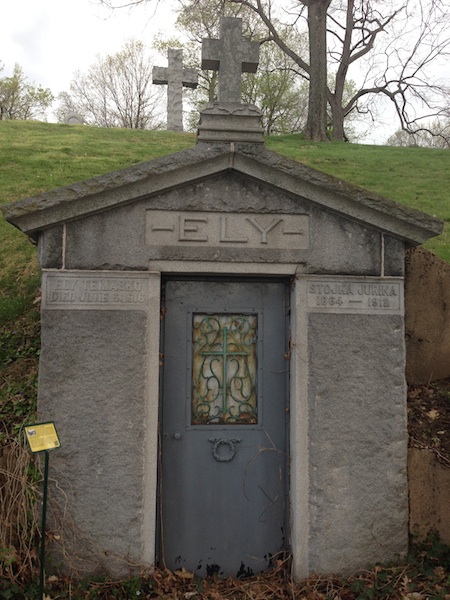 What if you could walk through Calvary Cemetery anytime you wanted to* and identify the interesting people buried there? (*During visitor hours in person or 24/7 through the internet.)
For the last two years, Calvary has been developing a self guided tour of notable sites throughout the cemetery using location signs equipped with QR codes to lead visitors to more information about each site. The initial test of the signs durability and the function of the QR code technology is now complete and found to be successful.
Phase One includes 40 sites, which are published on a tour map available at the cemetery office. Phase Two of the tour project has begun, with the identification of 80 more sites to be included in the tour, with ongoing additions. The map will be updated when new sites are added.
The tour sites include proprietary Flarecode technology, which allows visitors to give feedback through their smart phone, tablet or other internet access. The process is meant to be interactive, to allow the body of information to be updated, corrected or revisited for factual accuracy and to assess visitor interests and engagement.
Maps of the sites placed on Google Earth have had many thousands of hits, showing public interest in the sites and their content. The project draws together information from the internet and local history sources such as daytonhistorybooksonline and the Dayton Police History Foundation. There are also photographs and information from private collections included.
Another important  component of the tour is the integration of the Flarecode information into Calvary's main website. This allows cemetery visitors to look at a category of sites, for example, UD Hall of Fame Athletes or Brewery Owners, and customize a tour with a map they can save showing just those sites.
History docents are also available to lead visitors through these sites  as well as providing guidance for first time QR code users.  Individuals and groups interested in taking a tour with a docent are invited to contact the cemetery office to schedule a time.