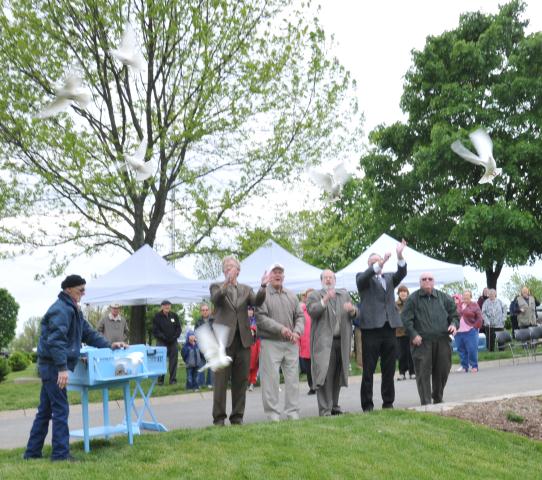 Members of the Board of Trustees gathered with the public to officially open the cemetery's newest garden on April 22, Earth Day.
Dedicated and blessed by Father Lawrence Muirenfeld last Fall, the garden's completion was celebrated on Earth Day an an appropriate tribute to the bond between heaven and earth. The sound of tinkling windchimes, given away as souvenirs of the event, mixed with the symphony of soothing water sounds and the music of Holy Angels Contemporary Ensemble. Directed by Nick Cardilino, the group sang several nature and water themed songs to help celebrate the Earth Day theme.
Though the day was cold and windy, about fifty visitors stayed for the ceremony in which Superintendent Rick Meade recognized those who had made significant contributions to the funding, design and construction of the cremation memorial and the fountain, waterfall and landscaping.
They include:
Board President, Harry Finke, Jr. for conceiving the project and operating as general contractor;
Tom Wurst, Architectural Engineering, who created the drawings and finished blueprints;
Adam Ravestein, who designed and built the fountain, waterfall and surrounding landscape;
Calvary employees who did the site prep, trenching and line laying needed for electrical and water support;

Subcontractors:

Tim Missall of STYMCO Construction,
Mike Davis of Advanced Masonry,
Dodd's Monument for loan of their crane,
Scott Patrick of Patrick Building Solutions,
Deb Bell and Jim Calgaro of Cold Springs Granite in Minnesota,
Steve Lutz of Chapel Electric,
Enterprise Roofing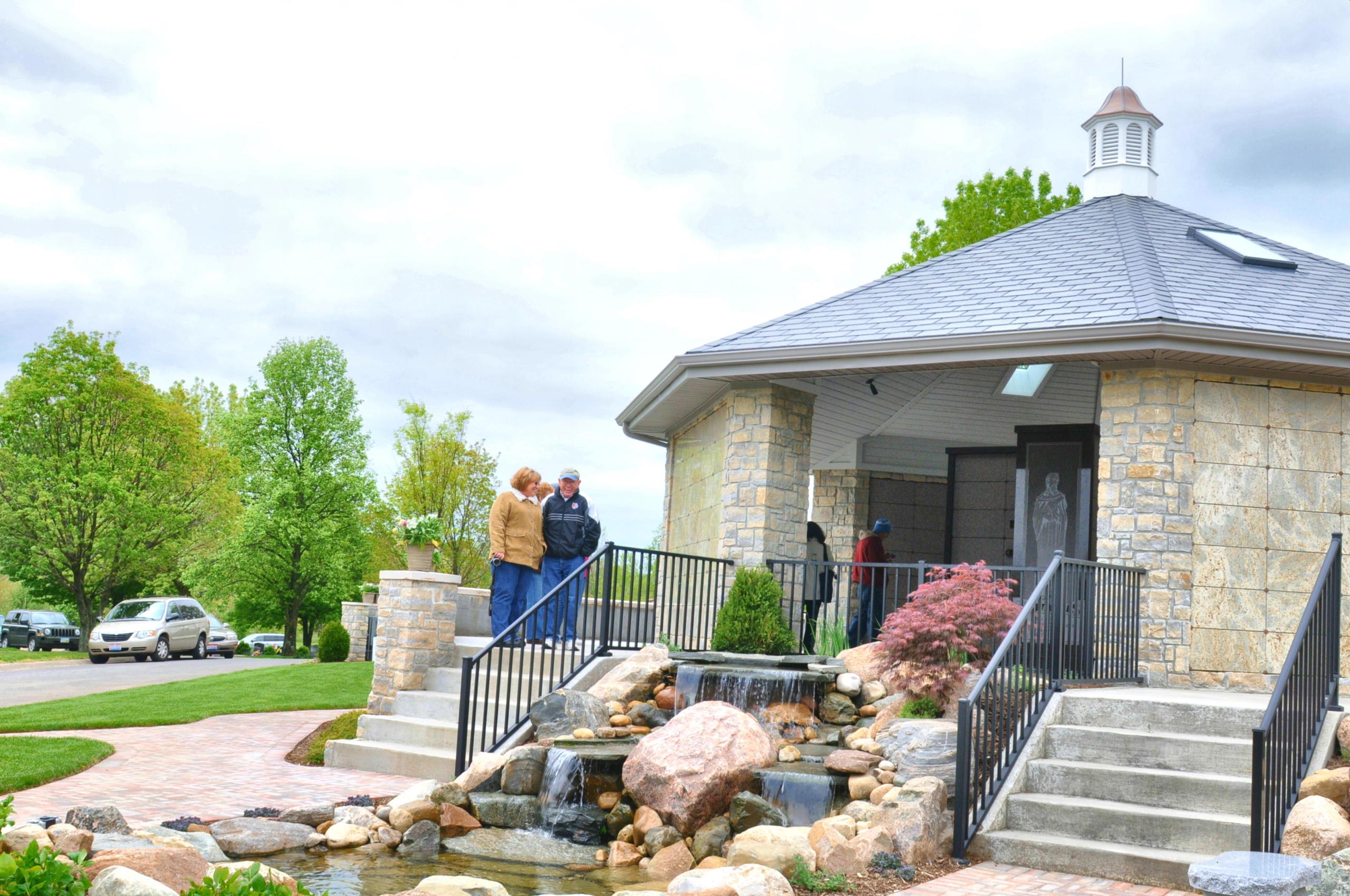 Board Vice President William Frapwell read passages from the Bible signifying the "Spirit of the Living Water" name.
There are many references to Water as a symbol of Life throughout both the Old and New Testaments of the Bible. Water is a basic element symbolizing healing and purification in many world religions as well. Aesthetically, the look and sound of a natural spring is comforting and helps to create a pleasant place for meditation and reflection." Water is symbolic of God's blessing and spiritual refreshment and is used many times in the Bible.
The following are just a few examples:
Isaiah 35:6-7
..for in the wilderness shall waters break out, and streams in the desert.
And the parched ground shall become a pool, and the thirsty land springs of water..
Isaiah 41:17-18
When the poor and needy seek water, and there is none, and their tongue fails for thirst, I the LORD will hear them, I the God of Israel will not forsake them. I will open rivers in high places, and fountains in the midst of the valleys: I will make the wilderness a pool of water, and the dry land springs of water.
The longing for water indicates spiritual need as in Psalm 42:1 – As the heart pants after the water brooks, so pants my soul after thee, O God.
In Ezekiel's vision of God's house the waters that poured from under the threshold represent the unrestricted flow of God's blessings upon his people (Ezekiel 47:1-12)
Jeremiah describes God as "the fountain of living waters" (Jeremiah 2:13, 17:13)
The finale of the day's program was the release of 21 white birds, who circled the garden and winged high into the sky.*
"Oh that I had wings like a dove! For then I would fly away, and be at rest." Psalm 55:6
*Bird Release by George Marcum, 937-224-3447