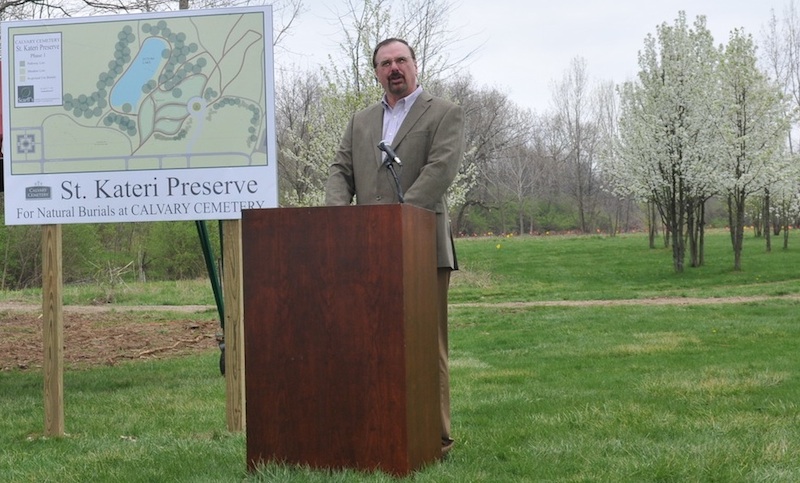 The Calvary Cemetery Association is launching a five year, five acre land conservation project beginning with a natural burial area, walking trails and and a 1.5 acre lake. The goal is to provide a green space that is a nurturing environment for human as well as plant and animal life.
Marianist Brother Don Geiger, a world class botanist and native plant enthusiast, is the cemetery's partner in providing knowledge and plant stock for the preserve from his Mount Saint John/Bergamo gardens. He is consulting with Adam Ravestein and the staff of Scarff's Landscaping to design the newly reclaimed grounds.
"Removal of invasive species such as honeysuckle is part of the preparation of the current topical growth. Some regrading, soil enrichment and the addition of clay to the limestone base will happen this Spring," reports Rick Meade, Calvary Superintendent.
"Phase One, which includes building the new lake in the existing run off path, will be complete by the end of 2014. It will take about five years for the meadow and tree stands to mature and reach full sustainability." Natural burial ( aka green burial) is available for both biodegradable caskets as well as cremated remains in eco-friendly containers. Local funeral directors have these options available and are able to use green methods in burial preparations.
St Kateri, the first Native-American Catholic Saint, is the namesake for the Preserve because she is the Patron Saint of the environment and ecology. Her name also is a nod of respect to the Mound Builder earthworks, part of the cemetery's ancient geography. St Kateri is to be honored with a larger than life size bronze statue placed near the top of the trails head. The statue is being created by Marie Barbera, a well known artist who also sculpted the Miami Indian brave for the City of Miamisburg. The statue will be installed and dedicated in Spring 2015.
Father Scott Wright of Incarnation Church blessed the ground. "The Preserve offers a nice option to Catholics who want to keep the faith tradition and be buried in an earth-friendly manner."