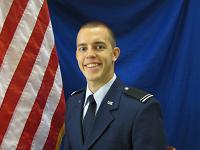 Michael Canfield Earns Calvary Cemetery Scholarship
In celebration of the lives of those who give their all in service to God and Country, Calvary Cemetery Association's Board of Trustees awards an annual scholarship to a deserving undergraduate student at the University of Dayton who is an active duty member or a veteran of the United States Armed Services; or is the spouse, child or grandchild of an active duty member or veteran.
The 2011-2012 Calvary Cemetery Association Scholarship award recipient is Michael Canfield.  Michael is a mechanical engineering major completing his junior year at the University of Dayton.  A 2009 Carroll High School graduate, Michael has a 3.66 grade point average in the Honors Program.  and is a third generation ROTC enlistee. His father, retired Air Force Lt. Col Robert A. Canfield, is a graduate of Duke University and served 21 years. Michael's grandfather, retired Army Captain Robert E. Canfield, served in the Korean War.
"My parents are currently in Blacksburg, VA making that home. Growing up we moved around a lot making it hard to pinpoint a single hometown. I spent my high-school years in Beavercreek, OH which greatly influenced my decision to attend UD," Says Michael. "I am currently going through the detachment 643rd ROTC program at Wright State University for the Air Force. I hope to serve as an Acquisition Manager for the United States Air Force. "