The Calvary Cemetery Association is pleased to announce Stephanie Greve as the recipient of the 2013 God and Country Scholarship. Greves is an Information Technology Specialist in her Ohio National Guard unit and plans to graduate from the University of Dayton with a Bachelor of Science degree in Business Administration with a major in Management Information Systems and Accounting in 2015.Greve maintains a grade point average of 3.47.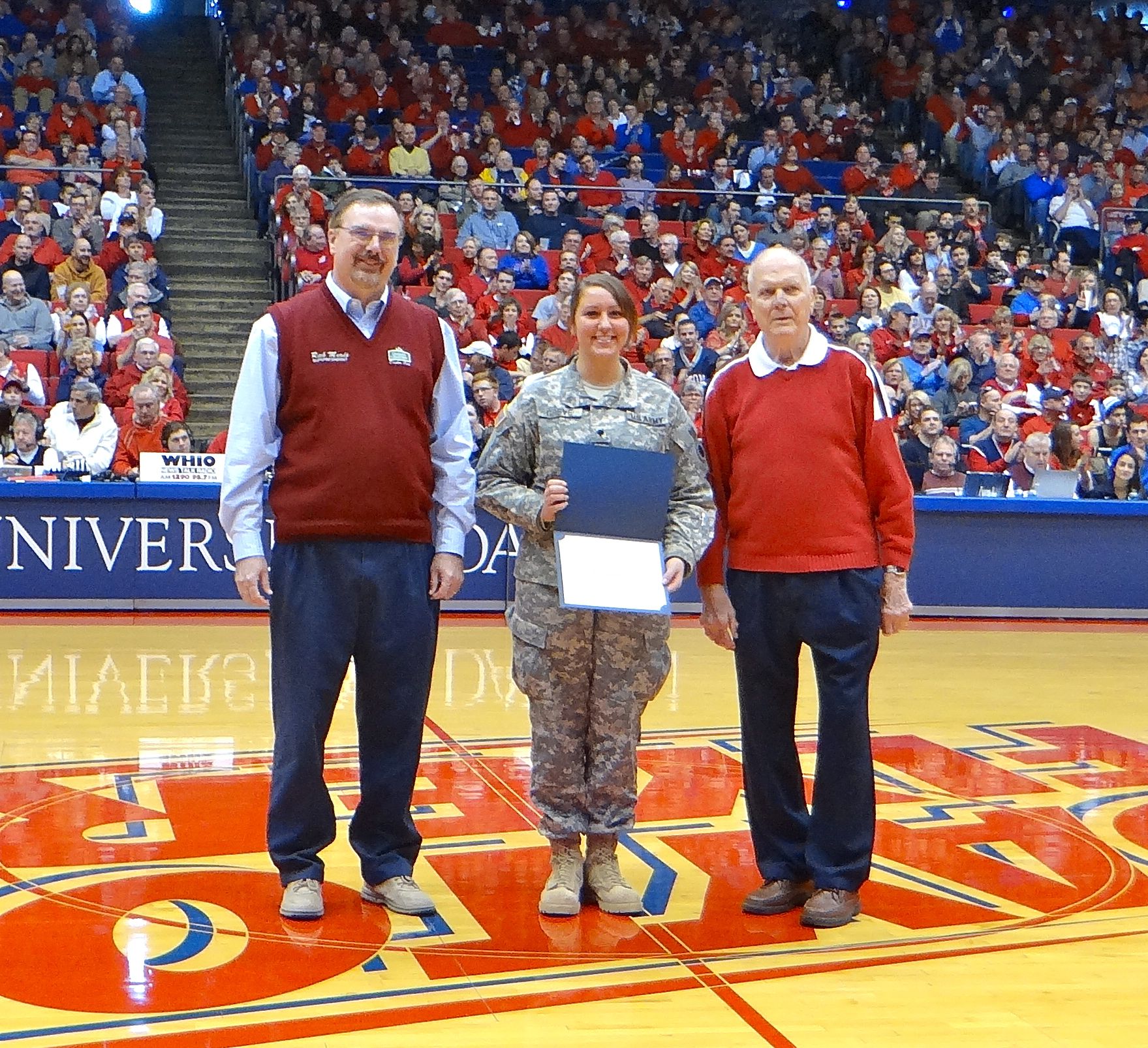 Rick Meade, Calvary Superintendent, Scholarship recipient Stephanie Greve and Board President Harry Finke at UD Flyer game presentation on February 9, 2013.
Greve has served in Ohio Army National Guard since February 2010. She is a Specialist (E-4). She completed Basic Combat Training in August 2010 at Ft. Jackson, SC. Greve achieved an Honor Graduate Diploma at Advanced Individual Training Jun-Nov 2011 Ft. Gordon, GA. Greve has upheld leadership positions as assistant Platoon Guide, Squad Leader, and called cadence for the formation as well as led the PT formation in exercise. She was elected out of 50 soldiers with top fitness level to race on a team of 5 (4 males/1 female) in Warrior Challenge 2011.
As a Cultural Ambassador for the University of Dayton, Greve helps to familiarize international students with the US via email, video conferences, and in-person discussions recommending plans and helping them learn American traits as well as the English language.
Greve's additional student activities include: Webmaster(IT Personal) for UDMKT (The Marketing Club); Member of the Student Advisory Committee for honors students and was an Interviewer/Writer for HonorsLINK newsletter; Chancellor of Delta Sigma Pi(Co-Ed Professional Business Fraternity); Member on a team of 5 to represent UD for Deloitte FanTAXtic Regional Case Study Competition;
Volunteer at R.I.S.E. XII Forum (Redefining Investment Strategy Education)- the world's largest student investment conference co-sponsored by the University of Dayton and the United Nations Global Compact
The Calvary Cemetery Association presents an annual God and Country scholarship to a University of Dayton undergraduate student who is or has served in the military or whose immediate family is or has served in the armed forces. Greves is the fourth student and the first female cadet to be honored.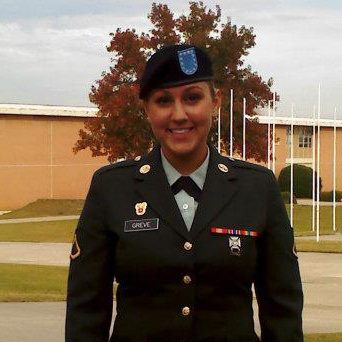 Ohio National Guard Information Technology Specialist Stephanie Greve is the 2013 God and Country Scholarship Recipient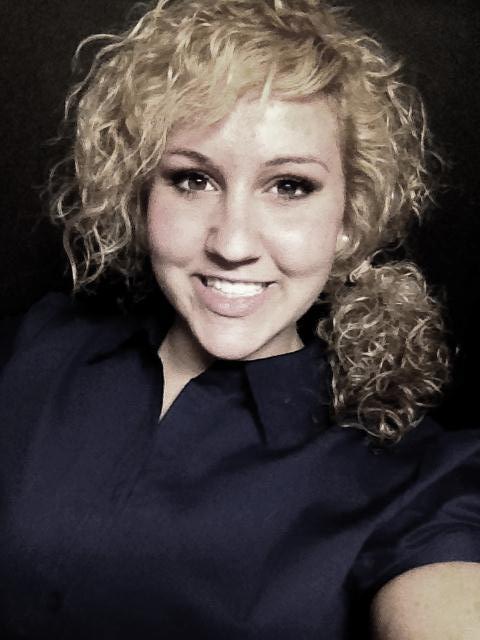 UD Sophomore Stephanie Greve is the 2013 Recipient of the God and Country Scholarship Award